Our Mission
To encourage everyone to clean in a healthier and more environmentally responsible way, through education and provision of toxic free refillable products
Caring

On surfaces, materials, skin, towards the planet and towards each other.

Living

Helping you live more responsibly, respecting and preserving the environment.

Environment

Enjoy living spaces that are free from harsh chemicals and stay cleaner for longer.

Aspirational

We help others to change their ways. Positively impacting our planet.

Natural

Wherever possible, we use natural formulations, free from harsh chemicals.
The days of shopping without a second thought are over. We're all increasingly concerned about the damage we're doing to the environment and accept that our behaviours must change. People want to know what is inside the products they buy and how the waste packaging is disposed of after use.
Just 14% of the plastic packaging used globally is recycled and 8 million tons ends up in the ocean annually. Many reports and articles highlight concerns for our water supplies and water bodies, due to the amount of chemicals entering them through household waste water systems. There is also evidence to suggest that also various reports that the human body is not as receptive to antibiotics as it once was. These are just some of the triggers that inspired us to create Clean Living and provide an answer to all of these issues.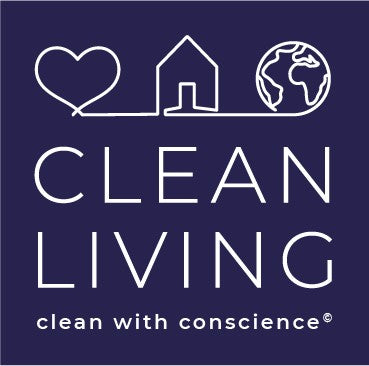 Our Vision
Our vision is simple:
"A world in which people clean their homes with conscience."
If we ever need reminding of our mission, we look to our logo which represents three key elements of Clean Living.
The Heart - A healthier family.
The Home - A healthier home.
The Planet - A healthier planet.
We hope you join us and clean with conscience.
SO WHAT MAKES CLEAN LIVING DIFFERENT?
We see no sense in creating a plastic bottle, printing expensive labels, filling it 99% with water, transporting it around the country and then 'hoping' it will be recycled by the local authority.
Our unique approach gives you aluminium bottles that can be refilled through a simple delivery mechanism, which enables you to reuse them many times over before disposal. Why? Because it is good for the environment and saves you a small fortune. Double bonus!
The Clean Living range also allows you to make a conscious choice about the chemicals you put into your home and wider environment. Our modern approach leaves your home sparkling and wonderfully fragranced without the use of harsh chemicals or toxic formulations. Simply mix our concentrates with water in your aluminium bottle and enjoy a clean home with a conscience ©.
Less Plastic

Less Chemicals

Less Waste

Less Hassle
CLEAN LIVING IS HERE TO HELP YOU CLEAN IN A WAY THAT IS HEALTHIER FOR YOU AND THE PLANET
A safer and less damaging way to clean your home does exist. Our hearts go into creating a range of planet friendly cleaning products that help you to eliminate harsh toxins and reduce your single use plastic waste. We've embraced the power of nature and supercharged our natural formulas with healthy bacteria to give a superior clean.
Being more mindful doesn't mean more hassle. Our refill, reuse, recycle method is easy and won't cost you the earth. You can use our aluminium bottles time over and create new habits without impacting on your lifestyle.
More importantly, we want to be a catalyst for change by challenging how we currently clean and educating others about how to be more mindful of the planet; all while giving you a deeply clean and beautifully fragranced home.